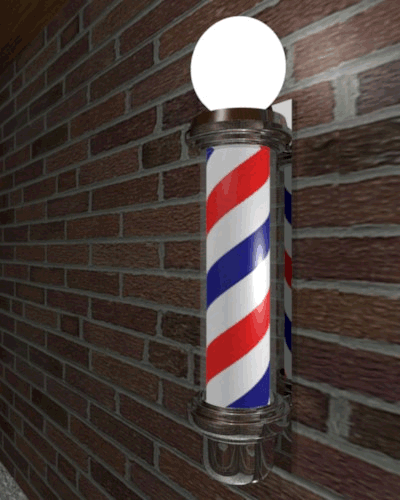 New Barber Shop now open in Abbeville.
As I went out about town today, I stumbled across a true bargain.... We have a
New Barber Shop
in town offering
$5.00 haircuts
through the rest of the week
- in order to herald its grand opening, which occurred on Tuesday September 28th.
This price is only good until Saturday, so you had better hurry in to see the new proprietor Charlie Norris really quick!
I'm only sorry, that I didn't find out until today... I'm sure, that my readers could have used the heads up about it - much sooner. Alas, I don't get out as much as I used to.
Charlie's Old Fashioned Barber Shop
is a nice little "
Mom And Pop Enterprise
" located next to the Printing Shop on Washington Street and across the street from the Old Poliakoff's Department Store. He did an outstanding job upon my own hair; and I am certain that he'll do just fine for yours, as well! Charlie has
7 years barbering experience
with another local hair cutter; and he is also
a registered barber
. Moreover, since he is just now starting his own shop, there is very little waiting time largely involved.
I would strongly recommend him for these reasons alone. However, with a regular price of just
$10.00 per cut
, I am sure that you'll find services highly attractive for most of you. Personally, I've long since tired of traveling to Greenwood for a reasonable haircut... or, anything else, for that matter.
Let's start supporting our local Abbeville businesses and rebuild our own local economy, folks!
Stop in, and see Charlie, real soon... you'll be glad that you did. For those of you who like to call ahead, his new
phone number
is
#366-7828
. Be sure and tell him, that we sent you.